Allex Kangala's Fashion - Classic, Harmonious, Spiritual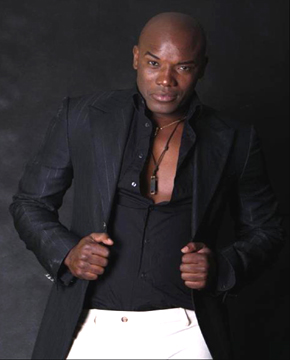 Since 2003, Couture Fashion Week has presented a series of couture and luxury fashion shows multiple times each year in New York City, Palm Beach, and other selected cities.
The 18th fabulous season of Couture Fashion Week will held September 5-8, 2013 at the landmark New Yorker Hotel. For the upcoming season, CFW has added a full extra day to the schedule, as well as an additional show time on Saturday afternoon. A dazzling roster of top-notch designers and performers is being scheduled.
Rising menswear design star Allex Kangala presented his latest collection at Couture Fashion Week in New York City at 4:00 p.m. on Sunday February 17, 2013. The runway fashion show was held at the New Yorker Hotel, 481 Eighth Avenue, in the heart of the Big Apple's Fashion District.
Allex Kangala began his design career in 2003 working with the innovative menswear brand Shunnoz & Tekasala in his native Angola. In 2005 he launched his own Dianthus D'kangala label, a brand focused on classic, harmonious, spiritual and refined designs. He made his New York design debut in 2012 at Africa Fashion Week.